Open top containers have a tarpaulin top rather than a solid top. They are best suited to oversized cargo such as timber or scrap materials that need to be loaded from the top. Open top containers still have doors on the end, offering flexibility for packing and unloading.
Open top container dimensions
Dimensions may vary depending on how old the container is, who produced it, and who owns it. The dimensions below are a standard industry sizes.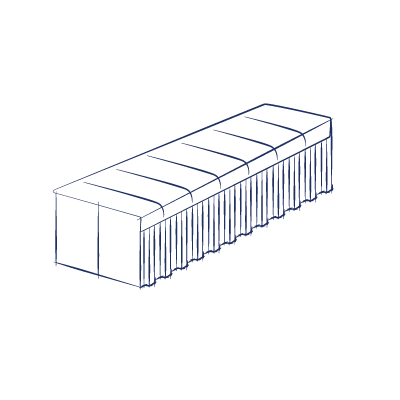 20´open top container
| | | |
| --- | --- | --- |
| Tara weight |  Payload capacity | Cubic capacity |
|  2,350 kg | 28,130 kg | 32.5 m3 |
|  5,181.8 lbs |  62,026.7 lbs |  1,147.3 cu ft |
 Internal
 Door opening
 Roof opening
 Length
Width
Height
 Width
 Height
Width
Height 
 5.9 m
 2.35 m
2.38 m
 2.34 m
2.28 m
 2.23 m
5.44 m
 19.3 ft
 7.7 ft
7.8 ft
7.7 ft
7.4 ft
7.3 ft
17.8 ft
40´open top container
| | | |
| --- | --- | --- |
| Tara weight |  Payload capacity | Cubic capacity |
|  3,850 kg | 26,630 kg | 66.4 m3 |
|  8,489.3 lbs |  58,719.2 lbs |  2,343.9 cu ft |
 Internal
 Door opening
 Roof opening
 Length
Width
Height
 Width
 Height
Width
Height 
 12.03 m
 2.35 m
2.38 m
 2.34 m
2.29 m
 2.21 m
11.57 m
 39.5 ft
 7.7 ft
7.8 ft
7.7 ft
7.5 ft
7.3 ft
38 ft