General purpose dry containers are constructed from aluminium or steel and are suitable for most cargo types. They are available in 20 foot and 40 foot sizes.
Dry container dimensions
Dimensions may vary depending on how old the container is, who produced it, and who owns it. The dimensions below are a standard industry sizes.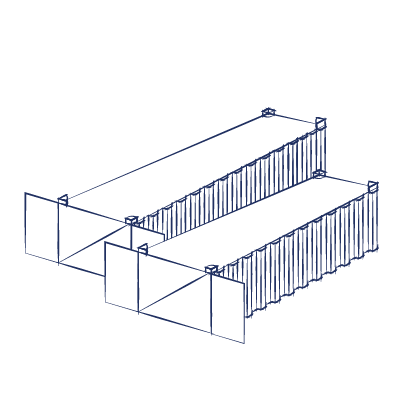 20´ dry container
| | | | |
| --- | --- | --- | --- |
| Tare weight | Payload capacity | Cubic capacity | Internal length |
|  2,300 kg |  25,000 kg |  33.2 m3 |  5.9 m |
|  5,071.5 lbs |  55,126.9 lbs | 1,172 cu ft | 19.4 ft |
|  Internal width | Internal height | Door opening width | Door opening height |
|  2.35 m |  2.39 m |  2.34 m |  2.28 m |
|  7.7 ft |  7.9 ft | 7.7 ft |  7.5 ft |
40´ dry container
| | | | |
| --- | --- | --- | --- |
| Tare weight | Payload capacity | Cubic capacity | Internal length |
|  3,750 kg |  27,600 kg |  67.7 m3 |  12.03 m |
|  8,268.8 lbs |  61,200 lbs | 2,389 cu ft | 39.5 ft |
|  Internal width | Internal height | Door opening width | Door opening height |
|  2.35 m |  2.39 m |  2.34 m |  2.28 m |
|  7.7 ft |  7.9 ft | 7.7 ft |  7.5 ft |