Garments on hangers or GOH containers come fitted with either a bar or string system inside that allows items to be hung on coat hangers. They offer a bigger internal load capacity and since items are shipped on hangers, handling costs can be reduced.
GOH container dimensions
Dimensions may vary depending on how old the container is, who produced it, and who owns it. The dimensions below are a standard industry sizes.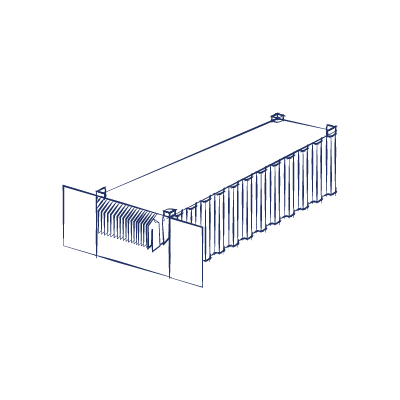 20´ GOH container
| | | | |
| --- | --- | --- | --- |
| Tare weight | Payload capacity | Cubic capacity | Internal length |
|  2,300 kg |  28,180 kg |  33.2 m3 |  5.9 m |
|  5,071.5 lbs |  62,136.9 lbs | 1,172 cu ft | 19.4 ft |
| | | | |
|  Internal width | Internal height | Door opening width | Door opening height |
|  2.35 m |  2.39 m |  2.34 m |  2.28 m |
|  7.7 ft |  7.9 ft | 7.7 ft |  7.5 ft |
40´ GOH container
| | | | |
| --- | --- | --- | --- |
| Tare weight | Payload capacity | Cubic capacity | Internal length |
|  3,750 kg |  28,750 kg |  67.7 m3 |  12.03 m |
|  8,268.8 lbs |  63,393.8 lbs | 2,389.8 cu ft | 39.5 ft |
| | | | |
|  Internal width | Internal height | Door opening width | Door opening height |
|  2.35 m |  2.39 m |  2.34 m |  2.28 m |
|  7.7 ft |  7.9 ft | 7.7 ft |  7.5 ft |