Flat rack containers are ideal for heavy cargo or items that need to be loaded from the top or sides. This may include machinery or piping.
Flat rack container dimensions
Dimensions may vary depending on how old the container is, who produced it, and who owns it. The dimensions below are a standard industry sizes.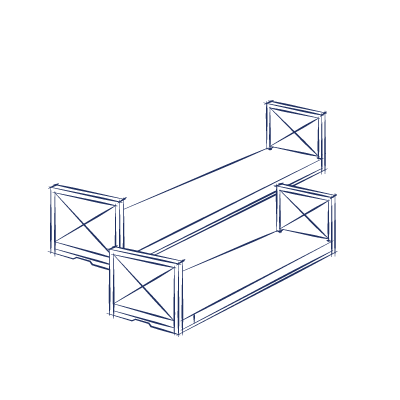 20´ flat rack container
Tare weight
Payload capacity
Cubic capacity
Internal length
 2,360 kg
 30,140 kg
 32.7 m3
 5.94 m
 5,203.8 lbs
 66,458.7 lbs
1,154.3 cu ft
19.5 ft
 Internal width
Internal height
 2.35 m
2.35 m
 7.7 ft
7.7 ft
40´ flat rack container
Tare weight
Payload capacity
Cubic capacity
Internal length
 5,000 kg
 40,000 kg
 62.2 m3
 12.13 m
 11,025 lbs
 88,200 lbs
2,195.7 cu ft
39.8 ft
 Internal width
Internal height
 2.40 m
2.14 m
 7.9 ft
7 ft